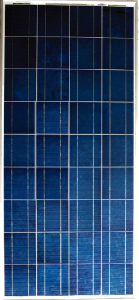 Chinaland CHN-36P-150
The CHN 60P (P156) has a power tolerance of 0 to +3%, which ensures high reliability of power output. Its modules are certified by TUV to withstand high wind loads (2400 Pa) and snow loads (5400 Pa). The special PV module insurance-provided by world leading insurance companies-guarantees that PV investors and module users will realize a return on investment. Junction box and bypass diodes guarantee that the modules will be free of overheating and the "hot spot effect".
Key Feature:
The most vertically integrated solar manufacturer in the industry with production of  ingots, wafer, solar cells and modules using both mono crystalline and multi crystalline technology
Global distribution with local warehousing, delivery and after sales services.
Modules certified by global testing facilities: IEC61215, IEC61730, CE, ROHS.
Manufacturing with international quality standards and   environment management system: ISO9001 and ISO14001.
Most updated design with drainage holes in the frame ensures the modules to withstand various weather conditions.
Minimal wiring effort required as the module has high reverse current resistance.